We were told that the Chinese write their addresses in reverse order to ourselves –
China
City
District
Street
Name
If this is the case, it provides an interesting perspective on how they see themselves in relation to their country. Certainly, we experienced deference to and respect for authority in all its forms and a belief that the needs of the individual were less important than those of the community. Thus, parents of children lucky enough to attend nursery, counted themselves fortunate to have procured a means of education for their child. They would not consider questioning the activities advice and professional judgement of the childcare provider. How different from our own experience where we live under the constant sceptical scrutiny and judgement of the "netmums" generation, where we are held to account for perceived infringements of statutory guidelines via anonymous complaints. Perhaps there is a lesson here for our society?  (maybe we could censor netmums in the same way facebook is rendered inaccessible in China?  – that's a joke!!)
This morning we visited the ancient Garden of Nets. We learned about the 4 elements comprising Chinese garden design – water, rocks, plants and pagodas.  We toured the gardens, with its well maintained ponds, plants, bonsai trees, pagodas and separate sections, divided by entrances – one of which was circular and a good photo opportunity. We discovered that the rocks were arranged in deliberate symbolic designs and that the "glue" which continues to bind them together is made of rice and eggs!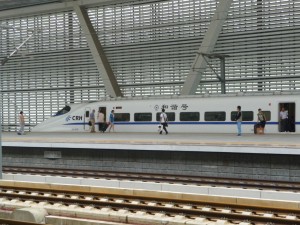 We left the garden, headed for the station in the outskirts, where we climbed up to track level to board the high speed bullet train to Beijing. The line was built on pillars in less than 2 years and cuts across the landscape for several hundred kilometres. The train itself reaches a top speed of 300km per hour.  We contrasted this impressive feat of engineering with our ongoing arguments over the viability of HS2. I suppose a big factor in China is that the government owns all of the land and so does not have to negotiate with anyone in order to plan new train routes, it simply announces the route and starts to build. There is also no shortage of ready labour in China.
At the station, Mrs Paintpots observed the first of many signs of a difference in the Chinese approach to potty training. Very young children are dressed "ready for action" when it comes to toilet training, with an emergency flap front and back and indeed in some circumstances no modesty covering at all. When the carer determines that the child needs to go, he/she is pointed at the nearest disposal point, in this case a convenient bin, and just goes. They claim that their children are toilet trained by the age of one.
We arrived in Beijing after a very smooth ride, having covered over 500 kms in just over a couple of hours.  Our hotel was home of the Beijing Opera and had a kind of faded opulence. That evening, we went out for a fish supper followed  by a "foot" massage. Mr & Mrs Paintpots were separated from the main party in our own private room. Our feet were bathed in very hot liquid and we were both assigned a masseur – a man for Mrs P and a young lady for myself – this is in keeping with Ying and Yang. The male masseur appeared to be applying significantly more pressure and force in his movements. I could tell this from the slapping and yelping sounds coming from the adjacent bed as Mrs P's feet were thumped and her thighs slapped.
Suitably "refreshed" we limped home to our hotel room where we drifted off to sleep to the sound of road drills!