The current population of China is 1.4 billion. A new baby is born in China every 23 seconds. 20 years ago 15% of the population lived in cities. Today, 50% do. This is the largest urbanisation in history and presents enormous challenges to China, both economically and politically.  Modern day "reformed China" dates back to the death of Mao in 1976 following which Den Xiao Ping visited Boeing in the United States and started an "open door" policy of industrialisation and technological development based on international trade.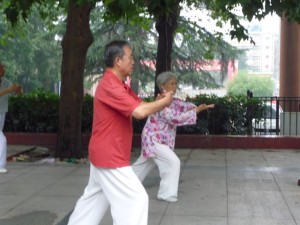 We were up early and down in our Xian hotel lobby for 8, to walk to the local park to observe and join in with Tai Chi. We took our life in our hands but successfully negotiated 6 lanes of traffic (Zhiang informed us that volumes were low due to it being the Moon Festival – just as well!) to arrive at a beautiful local park where several groups of pensioners were already well into their routines.  We approached a couple of groups who were happy for us to join in. We learned that they usually do 2 hours every day. Most of them were well into their 70s and 80s.
After breakfast, we departed for the city walls. Xian city walls are a famous attraction. They are 10 metres wide and circle the city with a circumference of 14km. Most of our party hired bikes and set off on a trip to the next gate and back.
After the city walls, we visited a jade museum and retail outlet.
Peter joined us as an additional guide today. He told us his father was a doctor who studied in the UK and returned to China to practice, working from 1952 – 64. He had been killed by the Red Guard during the cultural revolution.
In the afternoon, we visited the 900 year old Grand Mosque in the Moslem quarter, walking through the vibrant narrow lanes where unusual food-stuffs such as sheep trotters were on display alongside a whole colourful variety of wares.
In the evening we attended the Tang Dynasty show  at a local theatre. We enjoyed a "hot pot" dinner in the theatre restaurant – each diner has their own pot of hot water boiling over a heater, into which you place various ingredients to cook for your own meal, eg eggs, meat, vegetables etc.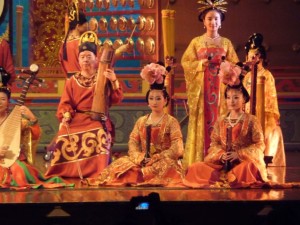 The show was a colourful affair with traditional instruments, dances, costumes and  songs. It was very Chinese and entertaining.