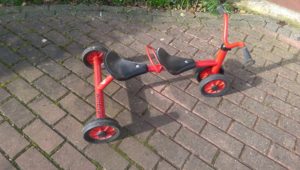 This is a bike. It is a sturdy and quite expensive bike. It has space for 2 small children and the potential for a whole load of fun and excitement!
About 9 months ago, one of the front wheels fell off. Mercifully no one was hurt. Somebody put the bike out of service, on one side and the children were denied any further enjoyment from it.
Some time later I discovered it languishing near the bins at the back of a nursery.  By this time it had lost both front wheels and was in a sad state. No one knew where the wheels had gone to.
Using the power of the internet, we eventually tracked down a company who had a catalogue of spare parts. We identified the make and model and what we thought were all the missing pieces. After several months of miscommunication, a parcel arrived with 2 new wheels, an axle, end caps and covers. But when we came to re-assemble it, there was one piece missing, a small black plastic spacer – without which, it would be impossible to use. We re-checked the spares catalogue. It wasn't listed. We emailed the company, with a photo. They didn't understand what we were asking for. All was a lost – 'for the want of a nail…..'
We put the bike on one side whilst we considered possible solutions. Finally, we decided to see if it was possible to somehow make our own. Reading an article on 3D printing, the thought came to mind whether we could find somebody locally who could do this for us.
Step forward 'So Make It'  @MakeSoton "a non-profit MakerSpace in Southampton, UK – a friendly and inclusive place for people who like making things to sharing knowledge, experience and tools."
This is the original alongside a new 3D printed part without which our children could not enjoy their bike. Amazing how important something so seemingly insignificant can be!
Credit must go to Tom Frame for brokering the deal – passing on the precious piece of rounded black plastic to "a man who can".
Several days after Tom's request went in along with him dropping off the original part, an envelope arrived by return, with not one but four 3D printed copies of the original.
I eagerly set about assembling the axle, spacers, wheels and end caps, quickly restoring the bike back into service.
Who would have thought 3D printing could make a difference to children's outdoor activities and that community networks can play such an important part in supporting children's play?
From all the delighted children at Paint Pots, thank you So Make It – you made it for us!!