Following Jennie Johnson's musings on this subject : http://kidsallowed.wordpress.com/2012/11/09/living-wage-can-we-square-the-circle/ I thought I would undertake a similar analysis of Paint Pots wages –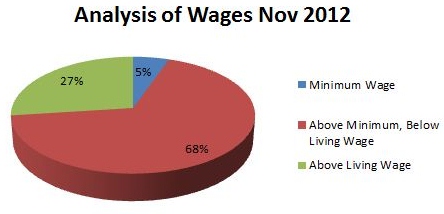 Compared to Kids Unlimited, we have less team members on minimum wage but also significantly less above the living wage. As Jennie has so clearly identified in her own blog entry, we can only pay out what we get in from parents.
I don't know what Kids Unlimited charges for their sessions but I believe it is just not possible for us to ask our families to pay more. Wages represent our greatest outgoing by far but other costs continue to rise.  The grant we receive from government for funded sessions does not cover costs and has not risen for several years.
How do we square this circle and give our staff the wage and status they deserve?  Put it another way, how do we as a nation, value the work undertaken to care for and develop our youngest children during the most important years of their life?
Aren't my staff worthy of a living wage (and more)? If so, who is going to pay for it?
To quote Baroness Walmsley speaking in the House of Lords yesterday, "we must not undervalue those dedicated people who work with our children. They need to be highly qualified and properly paid, so more money needs to be found."