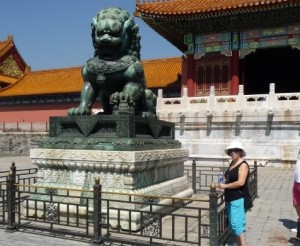 Lions often guard the entrance to Chinese buildings to ward off evil spirits. Look at their front feet to determine their gender – females will have a paw resting on a baby, whilst the male will have a ball under his paw.  In Chinese symbolism, dragons signify males and the phoenix, a female.
Today we visited  a shopping district compri
sing narrow lanes bordering a lake. It was picturesque and the shop prices were quite reasonable. We bought some fans and chopsticks.
After the shops we toured the Olympic village and used the "bird's nest" stadium as an iconic backdrop to our photos.
There are 4 treasures of Chinese national culture – opera, calligraphy, panda and kung fu.
We later headed to a community project run by Amy Zhou's "Young Zen Foundation", a not for profit social enterprise. The project runs in a community centre in a district of Beijing. We caught the lift to the first floor, walked along the corridor where we welcomed into a large bright room where children were engaged in a parachute game, joined by grandparents and some parents.
The project provides a programme of activities focused on physical and language development. Amy uses charitable funding to pay for rental, salaries and resources. The model has been "franchised" to enable it to be replicated across China. There is a defined kit of resources with a specified set of activities, procedures and desired outcomes. As well as providing development activities for the children, the programme educates carers – uneducated relatives (typically grandparents) of the children of migrants, in the principles and methods.  
Recognised as fulfilling a need within the vast challenge of child development for migrant worker families, the foundation has attracted government attention and support. Amy is a charismatic social entrepreneur in the new China and looks destined to expand her activities far and wide. Her enthusiasm, passion, commitment and optimism is infectious. She had recently returned from a visit with Hilary Clinton, so reasonably well connected then! – apart from being one of June O'Sullivan's contacts.
Tomorrow we fly to Xhiang, location of the Terracotta Warriors.