David and Anna have been involved with New Life Home Trust, a charity operating in Kenya, for many years. New Life Home Trust exists to rescue, care for and place abandoned babies in families.  Priority is given to those who are infected or affected by HIV/AIDS. If possible these children are returned to the birth family. Where this is not possible, adoptive or foster parents are sought. Some children, particularly those who have a disability or special needs, are difficult to place in families. New Life commits to caring for these children in its own homes, for as long as needed. In 2019, New Life Home Trust celebrates 25 years of operation. To date, it has rescued over 2,000 babies and children. 90% have been placed into loving homes.
David has visited the 4 homes many times. This year he offered the opportunity to 3 of the Paint Pots team to join him for the week in volunteering in the Special Needs and Baby Rescue unit in Kisumu, as well as the Baby Rescue Home in Nairobi. Katie from Paint Pots Swaythling, Izzi from our Howard Road nursery and Lisa from the Woodlands preschool were chosen from the list of applicants to go on the trip.
In the last week of May 2019, we set out from Southampton on the long journey via Heathrow, Jermone Kenyatta Airport in Nairobi, Kisumu International Airport and finally a minibus drive to our final destination – New Life Home, Kisumu.
Whilst Kisumu is the third largest city in Kenya, it has a less cosmopolitan feel about it than the capital Nairobi. Driving from the airport and stopping at the local supermarket for some supplies, it is evident that we are a white minority. We drive past people living in very basic housing. On the roads, we pass carts pulled by donkeys, tuk-tuks, make-shift hand carts and myriad 2-wheeled motorised vehicles with 1 or more passengers or improbable loads of goods – 4 car tyres, chickens, fruit, building materials.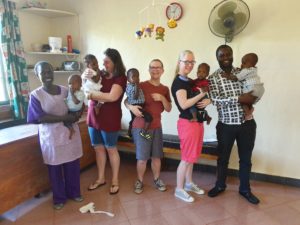 Our greeting at New Life was humbling. The manager, Gilbert and his team were truly touched that we had made the effort to visit them. Over the next 3 days we spent time with the babies, the toddlers and in the special needs unit. It was a poignant but rewarding experience for all of us. The children craved our attention. At the forefront of our minds was that stark fact that if these children were not here, it is likely that they might not be alive. It reminded us how precious each life is and gave us a perspective on the things we take for granted in terms of the care our own children in England receive. It is salutary to consider that everything provided for these children comes from donations – the buildings, clothes, food, toys, school fees, medicines, wages, play equipment, nappies, milk, wheel chairs, medical bills, transport, fuel, water, electricity, computers, phones, maintenance etc.
In some ways we were overwhelmed by the need. We had to remind ourselves that we could only do so much on such a short visit. Our aim was to learn, to support and encourage and to use our influence on our return to advocate for these children.
The United Nations Universal Declaration of Human Rights states that, 'All human beings are born free and equal in dignity and rights'. Whilst this is a laudable aspiration, in practice, it is evident that for many individuals, this is certainly not the case.
It is one thing to read about poverty and inequality but to experience it first-hand and to meet those affected – real children, changes our perspective and resolve. It would be difficult to be unaffected by this experience and remain undetermined to work for a more just, kind and compassionate World. We are global citizens. We all have a responsibility for the children of the World, not just those we have a relationship with through Paint Pots.
David and Anna are also supporters of a small charity 'To Kenya With Love' that set up and continues to run the Simon Newberry primary and nursery school for 300 children based in a slum district of Kisumu. David took the opportunity to visit, accompanied by Lisa. The journey to the school was 'interesting'! We turned off the main road into a maze of corrugated metal huts, bumping over mud tracks. When our driver stopped to ask for direction, our minibus was surrounded by a crowd of locals shouting out 'Hey, white woman!' to Lisa.
We arrived in the school compound without incident. We were given a tour of the school before joining the nursery class who were excited to show all their toys to the visitors. They led us by the hand, outside at playtime, to join in an impromptu session of song and dance. We were then invited to share a cup of the porridge the children are given for lunch, before we had to leave.
Despite their situation, the children at the school were very happy. Here was an example of education providing a path out of poverty. Ex pupils have gone on to university or returned as qualified teachers to work in the school.

On our last evening in Kisumu, we took a white-knuckle ride in a tuk-tuk – 5 people in 3 wheeler, along a very bumpy dirt track down to Dunga Point on Lake Victoria where we enjoyed a beer as we sat and watched the sunset.
The following morning we returned to the lake to tour a local radio station – Radio Lake Victoria which broadcasts to over 3 million people mainly on the topic of ecology. We also toured the lakeside facilities to see the Tilapia fish being landed, gutted and prepared for sale at Dunga Beach.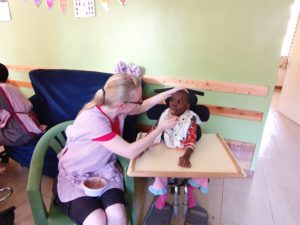 We returned to New Life to say our goodbyes before boarding our plane to Nairobi. On landing, we were driven to our apartment before travelling on to New Life Home in the Kilimani district where we were given a tour and met another adorable group of babies and toddlers who we were to spend the next 3 days with. In contrast to Kisumu, the Kilimani home hosts far more visitors and volunteers so much so that on days there was almost a ratio of one adult per child. The practical help provided by these students, medics, travellers and neighbours, eases the burden of the feeding and care routines for the staff. It is also evident that these children are used to interacting with adults. They are expectant of connection and engagement. We were reminded of the importance of attachment to children's developmental needs. The children are fed, cared for and nurtured but there is no escaping the fact that it is institutional care in a group context. There are strict rules governing care and hygiene practices. David was told off for not removing his shoes, not putting on a gown before feeding a child and not washing his hands inbetween picking up babies! It was a different experience spending time with these children but nonetheless worthwhile and again, poignant to consider that they had all been abandoned and were waiting for a loving family.
Through his connections from the World Forum on Early Childhood Education, David had arranged to meet a colleague from Aga Khan University, Dr Leonard Falex, at the home. Leonard lives not far from the home but confessed he had never visited. He was impressed and touched by what he saw on a tour of the site. He agreed to return at a later date and also to provide access to an online child development training programme for a member of the team. We hope that this will be the start of a fruitful relationship.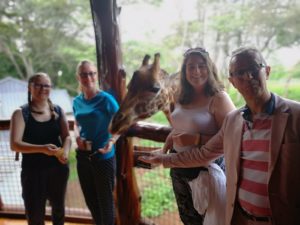 On our last day, we took the morning off to visit the giraffe centre where we fed the giraffes and learnt about the amazing conservation work before moving on to the David Sheldrick Elephant orphanage where we got to hear the life story and to interact with several of the orphaned animals.
All too soon we were in an early morning taxi back to the airport where we jostled for over an hour to check our bags in (in my experience, Nairobi is one of the most chaotic airports for service) before boarding our plane back to Heathrow at the end of an exhausting but very busy, emotional and ultimately enriching adventure.
Perhaps more than one of us has left a small piece of our heart with the precious children in the homes? (I checked the suitcases to make sure they weren't trying to sneak one back to the UK!)